Welcome to the (new) RMPrepUSB.com website
Download RMPrepUSB from FossHub.
This site contains the RMPrepUSB.exe utility and over 150 articles (mostly about USB booting and grub4dos).
Please use the Site Map to see all the content on this site.
Looking for a Legacy\UEFI multiboot USB solution with Secure Boot support? Try Easy2Boot.
Popular pages on this site (oldest pages have lowest numbers):
007 – FakeFlashTest – test a USB flash drive to see if it is a fake
021 – Guide to grub4dos
054 – How to fix write-protected read-only drives and SD cards
089 – Restore a Windows (Legacy\MBR) system with just one key press
124 – Cold boot attack – capture DIMM contents to a file even if the system was switched off!
137 – A grub2 tutorial
142 – Restore Windows (UEFI\GPT) system with just one keypress
143 – Modify any WinPE WIM Desktop without changing the ISO!
147 – How to patch and compile Ventoy
— – a1ive grub2 commands and notes

RMPrepUSB
RMPrepUSB is a Windows 32-bit utility to partition and format a drive (especially USB drives).
Install boot code
Sector editor
Test for 'Fake' size drives
Fix various USB boot issues
Run a 32-bit MBR Emulator to boot from a USB drive (QEMU) with full write access
Includes command line utility RMPartUSB.exe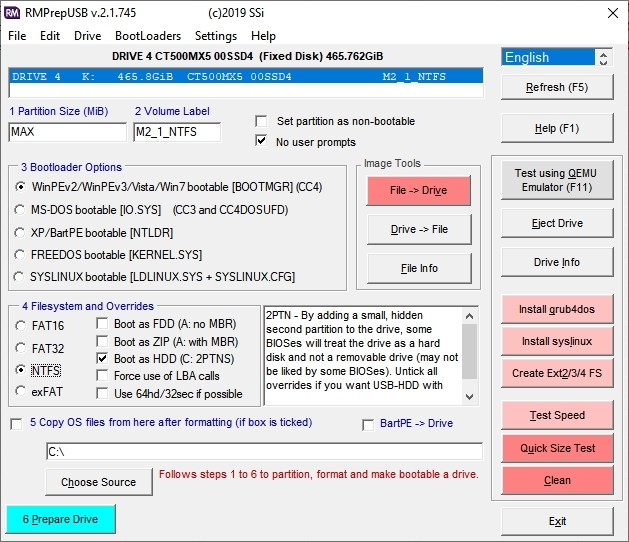 Downloads (Windows executable .exe)
Install_RMPrepUSB_Full._v2.1.745.exe
Install_RMPrepUSB_Lite_v2.1.745.exe
Zipped downloads (to avoid false positive virus detection)
Other Download Files
Click here If you cannot find any file mentioned in these articles on this site.